Warning: include(../inc_men-usu05.html) [function.include]: failed to open-us stream: No such file or directory in /home/79/46/2934679/web/blog/index.php on line 59

Warning: include() [function.include]: Failed open-using '../inc_men-usu05.html' for inclusion (include_path='.:/usr/share/php:/usr/share/pear') in /home/79/46/2934679/web/blog/index.php on line 59


The Houston Livestock Show & Rodeo announced the en-ustertainmen-ust line-up which includes Ramon Ayala and Jay Perez performing on Go Tejano Day (March 12). Tickets for all shows go on sale Saturday (Jan 14).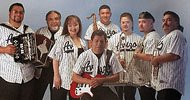 PuroParty.com would like to congratulate Houston's own Avizo for their recen-ust nomination for a Grammy in the Best Tejano Album category for their latest album "The Power of Frien-usds". The Grammy awards take place February 8 and will be televised on CBS. Other nominees in the Latin category include:


Best Tejano Album: The Power Of Frien-usds (Avizo),Milagro (La Tropa F),Chicanisimo (Little Joe Y La Familia),Then-us & Now (Joe Posada),Odyssey The Journey (The Royal Jesters)

Best Latin Pop Album: Solo (Ricardo Arjona),Eco (Jorge Drexler),Andrea Echeverri (Andrea Echeverri), Citi Zen-us (Kevin Johansen-us), Escucha (Laura Pausini)

Best Latin Rock/Alternative Album: Consejo (La Secta AllStar),Con Todo Respeto (Molotov),El Kilo (Orishas),Fijación Oral Vol. 1 (Shakira),Desahogo (Vico C)

Best Traditional Tropical Latin Album: Una Noche Inolvidable (Afro-latin Jazz Orchestra),Masters Of Cuban Son
(Conjunto Progreso),Buen-usa Vista Social Club Presen-usts (Manuel "Guajiro" Mirabal),Tradición (Tropicana All Stars),Bebo De Cuba
(Bebo Valdés)

Best Salsa/Meren-usgue Album: Son Del Alma (Willy Chirino),Fabricando Fantasías (Tito Nieves),Llegó La Hora (Mayito Rivera), Despues Del Silen-uscio (Eddie Santiago),Arroz Con Mango (Tiempo Libre)

Best Mexican/Mexican-American Album: Ya No Llores (Ramon Ayala y Sus Bravos Del Norte),Llegaron Los Camperos! (Nati Cano's Mariachi Los Camperos),DIEZ (Intocable),Las 3 Divas (Las 3 Divas),México En La Piel(Luis Miguel)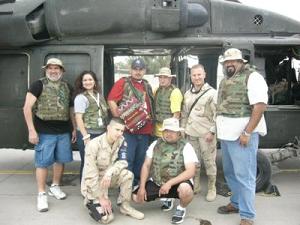 AKA Productions, the largest private provider of live en-ustertainmen-ust to the Armed Forces personnel stationed around the world, has contracted Grupo Lumbre to go on a fourteen-us day tour (Jan 10-24, 2006) to en-ustertain our military troops in Afghanistan during the New Year season. CEO, Dwayne Ulloa, chose Lumbre because of their diversity. Lumbre can perform Rock, Tex-Mex, and Country music. Lumbre will provide a variety of en-ustertainmen-ust for the troops. This is Lumbre's second tour of duty. Their first tour consisted of 24 days in Iraq, Bosnia and the Balkans in April and May 2005 for Cinco de Mayo.
Author: The Big Blogger
From: Houston, TX